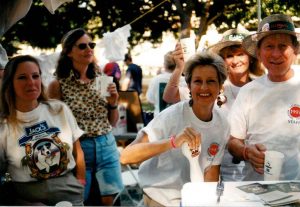 2021 marks the 27th anniversary of the California Brewers Festival in beautiful Sacramento, CA.  The California Brewers Festival has grown to be the capstone event of the season for beer enthusiasts in Northern California. Recognized as the first of its kind in craft beer festivals, the event unites thousands of craft beer and food lovers for an unforgettable experience. Hosted by the Rotary Club of Point West – Sacramento, and the Point West Rotary Club Foundation, the festival has raised nearly $1 million for local charities since its inception.
September 19, 2020 should have been the 26th anniversary for the California Brewers Festival in beautiful Sacramento, CA.  Due to the COVID-19 pandemic we implemented the famous "COVID pivot" and went virtual, hosting a ten week series spotlighting local breweries.  The series was free (with the option to purchase directly from each brewery) and offered a guided beer tasting, history of each brewery, and Q&A time with the brewers.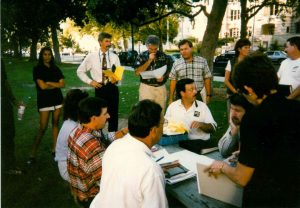 Pictured here at the far right in the top photo is Dr. Peck, who traveled to Denver in 1993 and attended the Great American Beer Festival.  He came back very excited and shared his enthusiasm with our club, and that was the Genesis of the California Brewers Festival, which took place in Old Sacramento in 1994.  Soon after, the event was moved to Cesar Chavez Park; here you can see the Brewfest planning committee getting ready for the1997 event (don't some of those moustaches look like they were from the 70s?).  We were at Cesar Chavez for several years before outgrowing that site and moving to our current location at Discovery Park.
Point West Rotary Club
Rotary of Point West Sacramento was founded in 1985 by 30 and 40-somethings who believed having fun should be central to their community service. That spirit continues today in a club of nearly 150 active members whose unofficial credo – and reputation – is, "never dull." Rotary Club of Point West – Sacramento is the second largest club in Rotary International's District 5180.
Point West Rotary Club Foundation
In 1998, the club created a Foundation to help those in need in our community, as an enduring legacy to past, present, and future Point West Rotarians and the community we serve. The Point West Rotary Club Foundation is the fiscal agent for the California Brewers Festival. Learn about our foundation here.
Even though we are not raising funds through our traditional beer festival, we are still committed to supporting our non-profit charity partners in any way we can.  We have other fund raising methods in mind, so be sure to check out our Facebook page for updates!
Benefiting Runnin' For Rhett
For 2021 we continue to partner with Runnin' for Rhett as our primary charity partner. Runnin' for Rhett raises funds for their Youth Fitness Program which is designed to combat childhood obesity in at-risk youth by educating young people and their families on fitness and nutrition. The program culminates a 5K race in the spring and the fall.  Runnin' for Rhett provides this program at NO CHARGE to more than 70 schools in the Sacramento region each spring and fall.  Learn more here.
Also Benefiting WEAVE
For 2021 we also continue to partner with WEAVE, Inc. WEAVE is the primary provider of crisis intervention services for survivors of domestic violence and sexual assault in Sacramento County. Through a multidisciplinary effort WEAVE also provides 24/7 response, outreach and services for victims of sex trafficking. WEAVE's vision is a community free of violence and abuse. Learn more here.
Who Else Benefits From This Event?
Point West Rotary awards grants to deserving organizations year round.  Funds raised from the California Brewers Festival go directly towards these grants.  Your participation in this event helps us reach more Sacramento area youth in need. Learn more here.